Hua Hin, as known as the beach-side resort town, is the most popular destination for both Thais and foreigners.

When you want to escape from the chaos of city life…come chill out and pamper yourself at the chic cafes hidden in the town.
Tree House Cafe'
A blissful Cafe in the greenery garden, the atmosphere is like you are sipping a cup of coffee in your own home but still chic and chill.
There are some mouth-watering edibles for you to try more especially must-try is an imported craft beer that you never find it anywhere in Hua Hin.
Location: Hua Hin 29
Hours: every day from 9 am – 6 pm (closed every Wednesday of the week )
: 081 937 0070
: TREEHOUSECAFE
Velo Cafe' X Rock'n Roast
This wide-open space will put your mind more peaceful and clear in an instant – and it allows for bursts of sunlight from the outside garden.
The Velo Cafe is definitely a must-visit in your list.
Location: 33/189 Baan Rue(SamorProng) Khan Klong road, Bridge no. 7
Hours: every day from 9 am – 7 pm (closed every Wednesday of the week )
: 080 282 5156
: VELOCAFE
Baan GliWang
One of the best places in Hua Hin to escape the hustle and bustle of city life. This charming, homey café is shaded by tropical greenery while offering the seaside beachfront views. Offer Authentic Thai food, dessert, and a variety of soft drinks.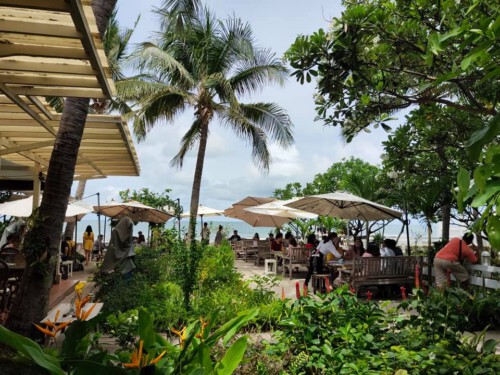 Location: 11 Nab Khehad road,Hua Hin
Hours: every day from 9 am – 6 pm
: 098 910 4262
: BAANGLIWANG
Monkey Cafe' Hua Hin
A delight for the senses is charming of Monkey Cafe is. Stepping in, you're immediately surrounded by all sorts of artworks and craftworks created by the owner and some of them are their collectibles, decorating every imaginable corner of the space.
Location: Hua Hin 55, Soi Rouam Phao, Nab Khehad road
Hours: every day from 9 am – 6 pm (closed every Monday of the week )
: 095 824 2297
: MONKEYCAFE
3
4
8
Due to some technical problem that we have to send next categories of car for customers without prior notice, however price will remain the same we discussed ( not charge more ) or in case have to down grade your car type we will collect as per actual rate of those car type.
Cancellation of your booking must be writing by email back to us.
Once the tour has started, no refund for any unused portion or part of the tour or services to be provided will be given. If you want to make any changes to the tour, or depart the tour early, such alteration or departure will be entirely at your own expenses and liability. You will also need to contact us in writing to the tour operator your reason for leaving the tour.
เนื่องจากปัญหาทางเทคนิคบางประการ ทำให้เราต้องส่งรถประเภทถัดไปให้ลูกค้าโดยไม่ต้องแจ้งให้ทราบล่วงหน้า อย่างไรก็ตาม ราคาจะยังคงเท่าเดิมที่เราพูดคุยกัน (ไม่คิดค่าบริการเพิ่ม) หรือในกรณีที่ต้องลดขนาดประเภทรถ เราจะเก็บตามอัตราจริง ของรถประเภทนั้นๆ
การยกเลิกการจองของคุณจะต้องเขียนอีเมลกลับมาหาเรา
เมื่อทัวร์เริ่มต้นแล้ว จะไม่มีการคืนเงินสำหรับส่วนใดส่วนหนึ่งของทัวร์หรือบริการที่ไม่ได้ใช้ หากคุณต้องการเปลี่ยนแปลงทัวร์หรือออกเดินทางก่อนเวลา การเปลี่ยนแปลงหรือออกเดินทางดังกล่าวจะเป็นค่าใช้จ่ายและความรับผิดทั้งหมดของคุณ คุณจะต้องติดต่อเราเป็นลายลักษณ์อักษรถึงผู้ให้บริการทัวร์ถึงเหตุผลในการออกจากทัวร์