There are guidelines to be followed and documents to be prepared before you board the plane bound for the
"

land of smiles

"

.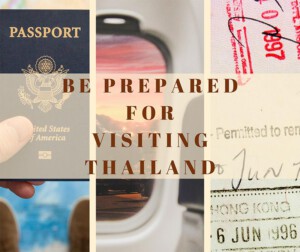 Passport: Make sure that your passport is not expired. Especially if the passport of someone who has a lot of stamps to enter the country, it will be a good sign for you that can show you are true tourists.
Arrival Card: ( Thai Immigration Bureau certificate ) Foreign visitors arriving or departing Thailand are required to fill out an arrival/departure card. Flight attendants will hand out the arrival/departure cards before landing. It is a certificate stating information about personal information. If you come to visit, tick the "Tour".
Customs Declaration Form (Traveler Declaration Forma customs declaration that requires filling out the items that need to be revealed. Or carrying a lot of money.
Boarding Pass, round trip:  It is a guarantee that you reserve the plane ticket for a round trip.
Identification documents:  ID card, driver's license, copy of marriage certificate, etc.
Document changing name – Surname: If you change name – surname, to confirm true identity you must bring proof of changing our name along.
Proof of hotel reservation:  It is good if you can show that you have proper accommodation to stay the entire period of stay.
Proof of work (English):  You can ask HR to issue it to indicate how many days travel to Korea. If a government official or a private employee, bring an employee ID card.
Tour schedule: If you book a tour with a travel agency, you can present the tour schedule, it will guarantee that you come to travel as per plan.
Tips
Practice basic English: Immigration officers often ask simple questions. You should practice listening and speaking English. Do common questions always like who are you with?  What are you doing or why do you come to Thailand.
Don't be alarmed if you are asked questions.
Do not take immigration photos.
Dress up based on the concept, simple, polite, and look good as a normal tourist
When you are planning a trip to Thailand, recommend you to install these useful apps.
Well begun is half done, we ensure that you will be able to pass the immigration smoothly.

For an extension of stay, you will have to file an application at the Office of Immigration
Call Center : 1178
Tel +66 2287-3101-10
3
4
8
Due to some technical problem that we have to send next categories of car for customers without prior notice, however price will remain the same we discussed ( not charge more ) or in case have to down grade your car type we will collect as per actual rate of those car type.
Cancellation of your booking must be writing by email back to us.
Once the tour has started, no refund for any unused portion or part of the tour or services to be provided will be given. If you want to make any changes to the tour, or depart the tour early, such alteration or departure will be entirely at your own expenses and liability. You will also need to contact us in writing to the tour operator your reason for leaving the tour.
เนื่องจากปัญหาทางเทคนิคบางประการ ทำให้เราต้องส่งรถประเภทถัดไปให้ลูกค้าโดยไม่ต้องแจ้งให้ทราบล่วงหน้า อย่างไรก็ตาม ราคาจะยังคงเท่าเดิมที่เราพูดคุยกัน (ไม่คิดค่าบริการเพิ่ม) หรือในกรณีที่ต้องลดขนาดประเภทรถ เราจะเก็บตามอัตราจริง ของรถประเภทนั้นๆ
การยกเลิกการจองของคุณจะต้องเขียนอีเมลกลับมาหาเรา
เมื่อทัวร์เริ่มต้นแล้ว จะไม่มีการคืนเงินสำหรับส่วนใดส่วนหนึ่งของทัวร์หรือบริการที่ไม่ได้ใช้ หากคุณต้องการเปลี่ยนแปลงทัวร์หรือออกเดินทางก่อนเวลา การเปลี่ยนแปลงหรือออกเดินทางดังกล่าวจะเป็นค่าใช้จ่ายและความรับผิดทั้งหมดของคุณ คุณจะต้องติดต่อเราเป็นลายลักษณ์อักษรถึงผู้ให้บริการทัวร์ถึงเหตุผลในการออกจากทัวร์