We Are, Bangkok Cab Taxi Company
We are increase the frequency of cleaning the car's interior contact surfaces. while traveling by bus There must be periodic ventilation inside the car. and refrain from serving food in the car during the journey including prohibiting passengers from eating food.
on public buses except in case of necessity only To reduce the risk of spreading or getting infected by taking off a mask or cloth mask while on a Taxi Private.
Ensuring that drivers or service providers and passengers wear masks or cloth masks throughout the journey
Clean all contact surfaces inside the vehicle with alcohol or a disinfectant before and after servicing, such as seats, every 2-4 hours.
Provide a service point for hand washing with gel alcohol or disinfectant For drivers and passengers to wash their hands before getting into the car. Refrain from eating in the car during the journey except in case of necessity.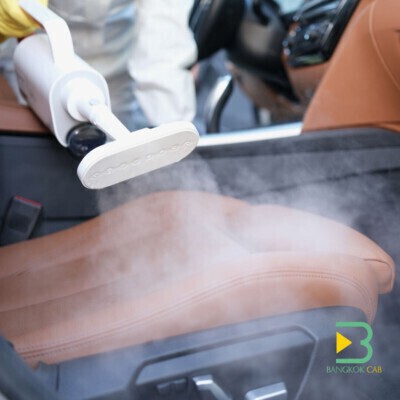 We are stop or park the vehicle for passengers to get off the vehicle in the designated stopping or parking place.
There is ventilation inside the car. when traveling within the car every 2-4 hours while traveling And we regularly check the operation of the ventilation system and clean it.
Bangkok Cab : 
We do the very best at what we do and you will understand why we are considered one of the best transfer services in Hua Hin.
We are here to assist you with any and all of our transportation needs.
You can count on us to be there for you. Just
BOOK NOW
3
4
8
Due to some technical problem that we have to send next categories of car for customers without prior notice, however price will remain the same we discussed ( not charge more ) or in case have to down grade your car type we will collect as per actual rate of those car type.
Cancellation of your booking must be writing by email back to us.
Once the tour has started, no refund for any unused portion or part of the tour or services to be provided will be given. If you want to make any changes to the tour, or depart the tour early, such alteration or departure will be entirely at your own expenses and liability. You will also need to contact us in writing to the tour operator your reason for leaving the tour.
เนื่องจากปัญหาทางเทคนิคบางประการ ทำให้เราต้องส่งรถประเภทถัดไปให้ลูกค้าโดยไม่ต้องแจ้งให้ทราบล่วงหน้า อย่างไรก็ตาม ราคาจะยังคงเท่าเดิมที่เราพูดคุยกัน (ไม่คิดค่าบริการเพิ่ม) หรือในกรณีที่ต้องลดขนาดประเภทรถ เราจะเก็บตามอัตราจริง ของรถประเภทนั้นๆ
การยกเลิกการจองของคุณจะต้องเขียนอีเมลกลับมาหาเรา
เมื่อทัวร์เริ่มต้นแล้ว จะไม่มีการคืนเงินสำหรับส่วนใดส่วนหนึ่งของทัวร์หรือบริการที่ไม่ได้ใช้ หากคุณต้องการเปลี่ยนแปลงทัวร์หรือออกเดินทางก่อนเวลา การเปลี่ยนแปลงหรือออกเดินทางดังกล่าวจะเป็นค่าใช้จ่ายและความรับผิดทั้งหมดของคุณ คุณจะต้องติดต่อเราเป็นลายลักษณ์อักษรถึงผู้ให้บริการทัวร์ถึงเหตุผลในการออกจากทัวร์