This season is a really good time to have a camping trip.
I know summer is the best time for camping but in this rainy season, you can see more version of how beautiful nature is.
More fresh and cool of the scenery, you will immerse into real happiness that they can heal your mind and soul.
This activity is a great way to get outside with family and friends or even by yourself. If you have never camped out before, we can help to keep things simple for your first trip.
Essential Camping Gear
These are important items for your camping checklist:
CAMPSITE
Tent
Sleeping bag/Sleeping pad/travel pillow
Lamp or flashlights ( and extra batteries)
Folding table & chair
Sunshade shelter
Hammock
Cots
TOOLS
Multi tool
Extra cord
Folding table & chair
Sunshade shelter
Small broom and dustpan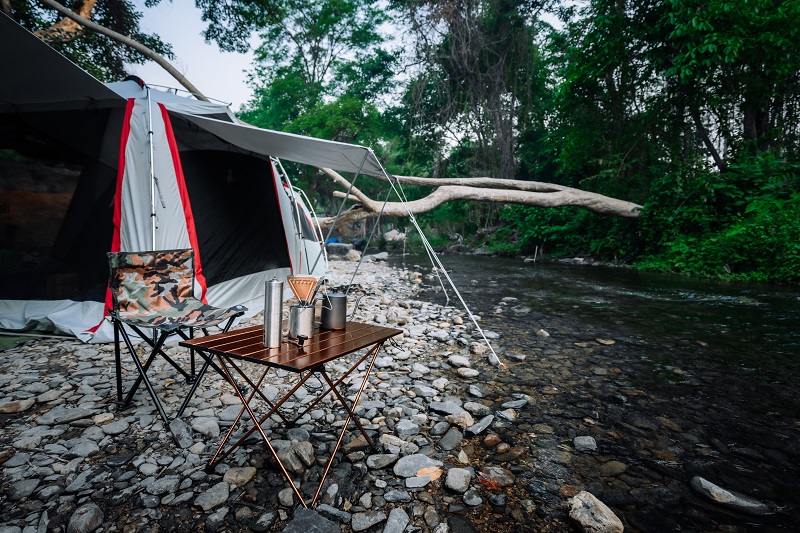 KITCHEN (if you would like to cook)
Food
Stove and fuel
Matches/light/firestarter
Pan / pot
Knife / Cutting board
Water bottles
Eating & Cooking utensils
Trash/recycling bags
HEALTH & HYGIENE
Toilet paper
Hand sanitizer
Toiletry kit
Prescription medications
First Aid Kit
Towel
Insect repellent
Sunscreen
Alcohol or antiseptic wipes
Do not forget to bring your personal items such as cash or credit card, your ID, cellphone, and power bank ( you do not want your phone run out of battery ) including a campsite reservation confirmation that may be required. About clothing and footwear, bring the one that suitable for yourself and comfortable during warm in the day time and chilly in the night time.
AND FINALLY
You may need some entertainment which you will be spending quality time with friends and family.
A portable speaker, some snacks, travel-sized board games, cards, fishing gear, and bike —– Maximize the fun with these things

This is a comprehensive list, and you may not need it all — it just depends on what type of trip you're going on. Enjoy the Holidays!!!
source: www.rei.com
3
4
8
Due to some technical problem that we have to send next categories of car for customers without prior notice, however price will remain the same we discussed ( not charge more ) or in case have to down grade your car type we will collect as per actual rate of those car type.
Cancellation of your booking must be writing by email back to us.
Once the tour has started, no refund for any unused portion or part of the tour or services to be provided will be given. If you want to make any changes to the tour, or depart the tour early, such alteration or departure will be entirely at your own expenses and liability. You will also need to contact us in writing to the tour operator your reason for leaving the tour.
เนื่องจากปัญหาทางเทคนิคบางประการ ทำให้เราต้องส่งรถประเภทถัดไปให้ลูกค้าโดยไม่ต้องแจ้งให้ทราบล่วงหน้า อย่างไรก็ตาม ราคาจะยังคงเท่าเดิมที่เราพูดคุยกัน (ไม่คิดค่าบริการเพิ่ม) หรือในกรณีที่ต้องลดขนาดประเภทรถ เราจะเก็บตามอัตราจริง ของรถประเภทนั้นๆ
การยกเลิกการจองของคุณจะต้องเขียนอีเมลกลับมาหาเรา
เมื่อทัวร์เริ่มต้นแล้ว จะไม่มีการคืนเงินสำหรับส่วนใดส่วนหนึ่งของทัวร์หรือบริการที่ไม่ได้ใช้ หากคุณต้องการเปลี่ยนแปลงทัวร์หรือออกเดินทางก่อนเวลา การเปลี่ยนแปลงหรือออกเดินทางดังกล่าวจะเป็นค่าใช้จ่ายและความรับผิดทั้งหมดของคุณ คุณจะต้องติดต่อเราเป็นลายลักษณ์อักษรถึงผู้ให้บริการทัวร์ถึงเหตุผลในการออกจากทัวร์