There are plenty of things for you to do when you visit. Here are the top five most visited tourist spots in Bangkok to make the most out of your trip to the city.
1. The Grand Palace (Wat Phra Kaew)
Wat Phra Kaew (Temple of the Emerald Buddha) is regarded as the most sacred Buddhist temple in Thailand. It was built in 1782, the grand palace was the royal residence for generations and is still used for important ceremonies and accommodating heads of state.
When is the best time to visit the Grand Palace 
The best time to visit the Grand Palace is in the morning because The Grand Palace is a super popular attraction in Bangkok and it is always crowded unless you go when it opens. It will be less crowded and not too hot.
2.Temple of Dawn (Wat Arun)
The prang (spire) by the Chao Phraya is one of Bangkok's world-famous landmarks. You can climb the central prang to the highest point to see the winding Chao Phraya River and the Grand Palace and Wat Pho opposite. To make a great photo I suggest waiting till the sunset.

3.The Marble Temple (Wat Benchamabophit)
It is one of Bangkok's best-known temples and a major tourist attraction. The ordination hall is cast in stunning Italian marble and inside the was designed in a Sukhothai-style Buddha statue. The best photo spot is looking directly at the ordination hall from under an archway where the Buddha statues are.
Dress code: As with all temples in Bangkok require to wear proper clothes, the skirt should long enough to cover your knees and shoulders covered, no see-through, or skin-tight clothing like leggings.
4.Erawan Museum
Erawan Museum in Bangkok is a stunning site known for it's 3 headed elephant display topping the museum building. Cast in pure copper, the 250-tonne structure spans 29 meters in height and 39 in length. Located in Samut Prakan, it's a little outside Bangkok
Erawan Museum Bangkok covers 3 levels representing the underworld, human earth, and heaven. With a wide range of architectural symbols combined with fine arts and craftsmanship, structural layout and natural environment that integrate harmoniously, the Erawan Museum creates a kind of atmosphere that induces visitors to perceive and appreciate the continuity of history, cultures, religions, arts, and customs of faith from past to present.
Dress code: Visitors should dress modestly, no shorts, and have shoulders and knees covered.
5.The Floating Markets
Damnoen Saduak has been Thailand's best known floating market for a very long time, it's huge, lively, full of boats selling food and fruits, and it's colorful – grant you to have the perfect shot to show off on your SNS.
It is such a great experience if you take a boat trip and getting snacks from vendor boats.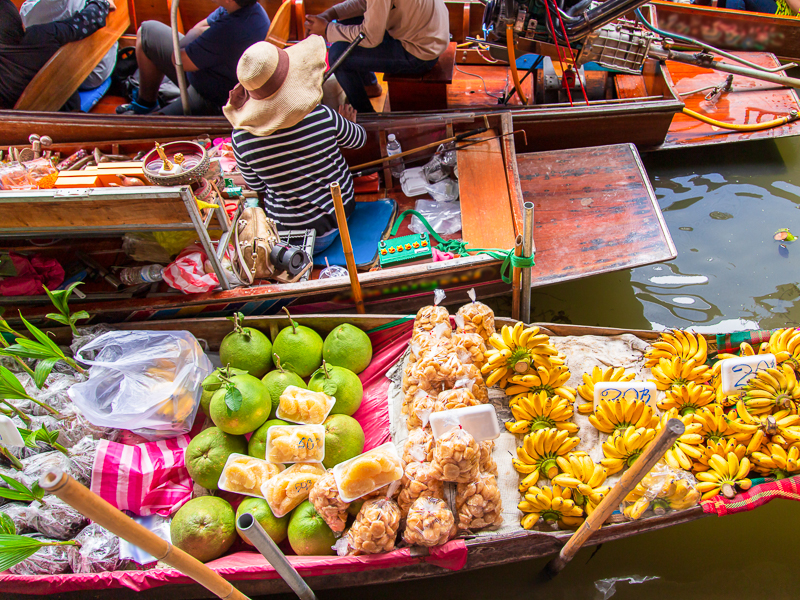 Source: List of Buddhist temples in Thailand
3
4
8
Due to some technical problem that we have to send next categories of car for customers without prior notice, however price will remain the same we discussed ( not charge more ) or in case have to down grade your car type we will collect as per actual rate of those car type.
Cancellation of your booking must be writing by email back to us.
Once the tour has started, no refund for any unused portion or part of the tour or services to be provided will be given. If you want to make any changes to the tour, or depart the tour early, such alteration or departure will be entirely at your own expenses and liability. You will also need to contact us in writing to the tour operator your reason for leaving the tour.
เนื่องจากปัญหาทางเทคนิคบางประการ ทำให้เราต้องส่งรถประเภทถัดไปให้ลูกค้าโดยไม่ต้องแจ้งให้ทราบล่วงหน้า อย่างไรก็ตาม ราคาจะยังคงเท่าเดิมที่เราพูดคุยกัน (ไม่คิดค่าบริการเพิ่ม) หรือในกรณีที่ต้องลดขนาดประเภทรถ เราจะเก็บตามอัตราจริง ของรถประเภทนั้นๆ
การยกเลิกการจองของคุณจะต้องเขียนอีเมลกลับมาหาเรา
เมื่อทัวร์เริ่มต้นแล้ว จะไม่มีการคืนเงินสำหรับส่วนใดส่วนหนึ่งของทัวร์หรือบริการที่ไม่ได้ใช้ หากคุณต้องการเปลี่ยนแปลงทัวร์หรือออกเดินทางก่อนเวลา การเปลี่ยนแปลงหรือออกเดินทางดังกล่าวจะเป็นค่าใช้จ่ายและความรับผิดทั้งหมดของคุณ คุณจะต้องติดต่อเราเป็นลายลักษณ์อักษรถึงผู้ให้บริการทัวร์ถึงเหตุผลในการออกจากทัวร์