In Thailand, there are some menus that you can eat the same foods for breakfast as you might eat for lunch or dinner.
Such as Thai stir-fried chicken/pork with basil, grilled chicken, and Thai curry.

Here is the most popular morning Thai breakfast dishes to eat when you visit Thailand!
Rice Congee / Rice Porridge
Called Joke in Thai, is very similar to the Chinese style of congee. It is usually served with a boiled egg, some pieces of minced pork, sometimes a few pieces of liver, and finally garnished with thin slices of ginger and Chinese parsley. When Thai people eat Joke, they are always eating with Patongo.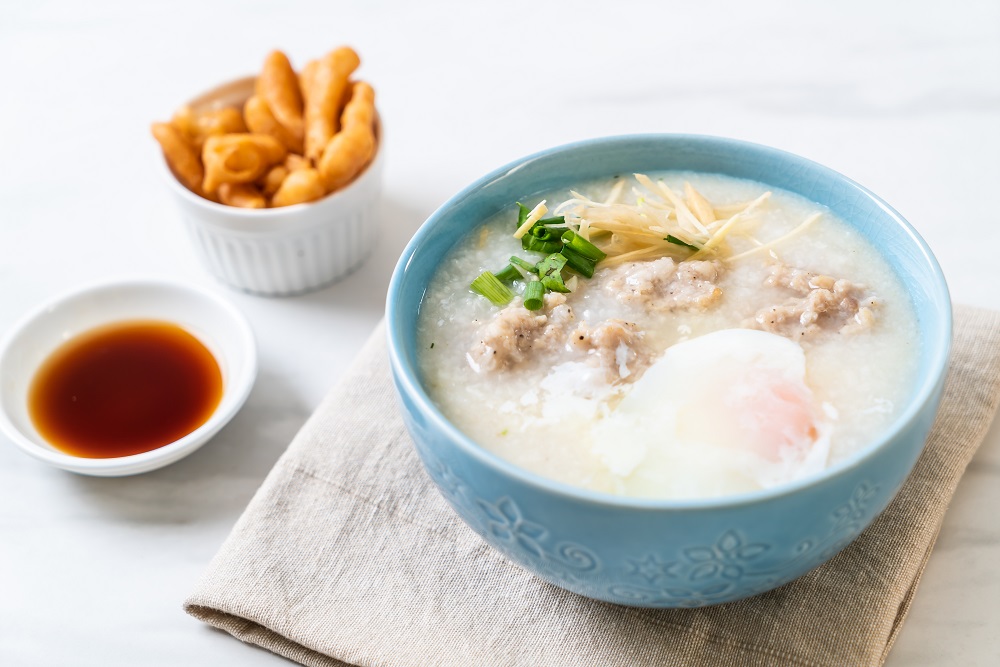 Patongo
It is the same as Chinese donuts. Thai people usually eat with hot Thai coffee, hot cocoa, Thai fresh soy milk, or dipped into sweetened condensed milk, a sweet creamy custard known as Sangkaya, and even eat with Thai congee.
Khao Tom
This dish is similar to Joke, but instead of the rice being dissolved into a porridge, we cooked rice and then pour broth into rice with other ingredients. There are many different types of Khao Tom, such as pork, chicken, a mix of seafood, or fish. Although it's common to eat for breakfast it's also to eat for dinner, or for a late-night meal.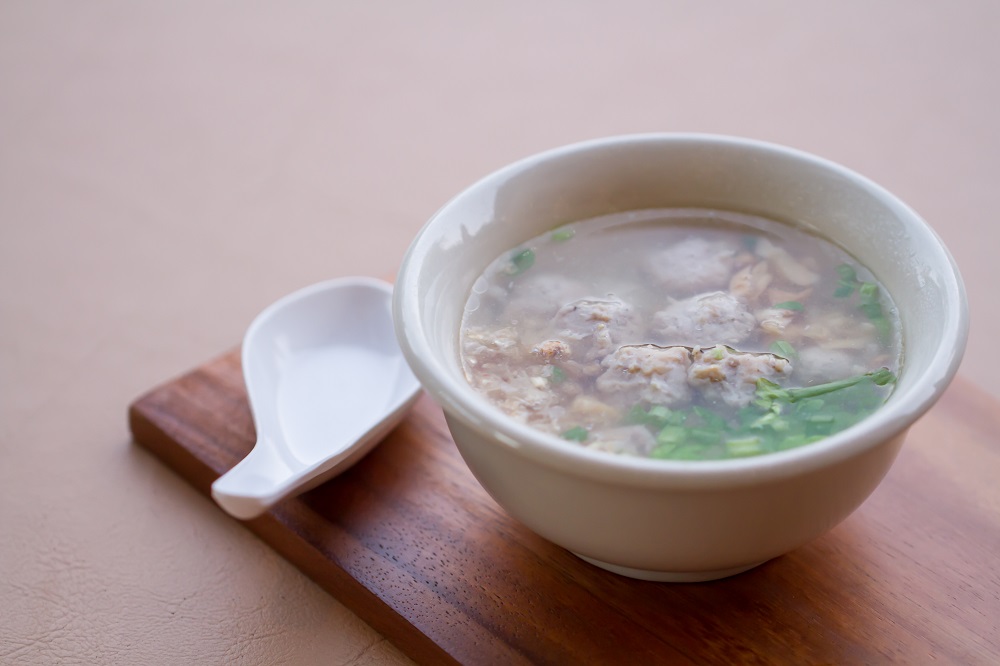 Boiled Pork Blood Soup
Called Tom Luad Moo in Thai, another popular breakfast dish. The soup is quite plain you need to seasoning it by adding some chili or vinegar to enhance the flavor. It was served with rice.
Pork Blood Soup
Pork Blood Soup is clear soup that uses pork blood as its primary ingredient. Additional include herbs and pork offal ,pork ball Asian foods fusion style breakfast and dinners time eat with rice top view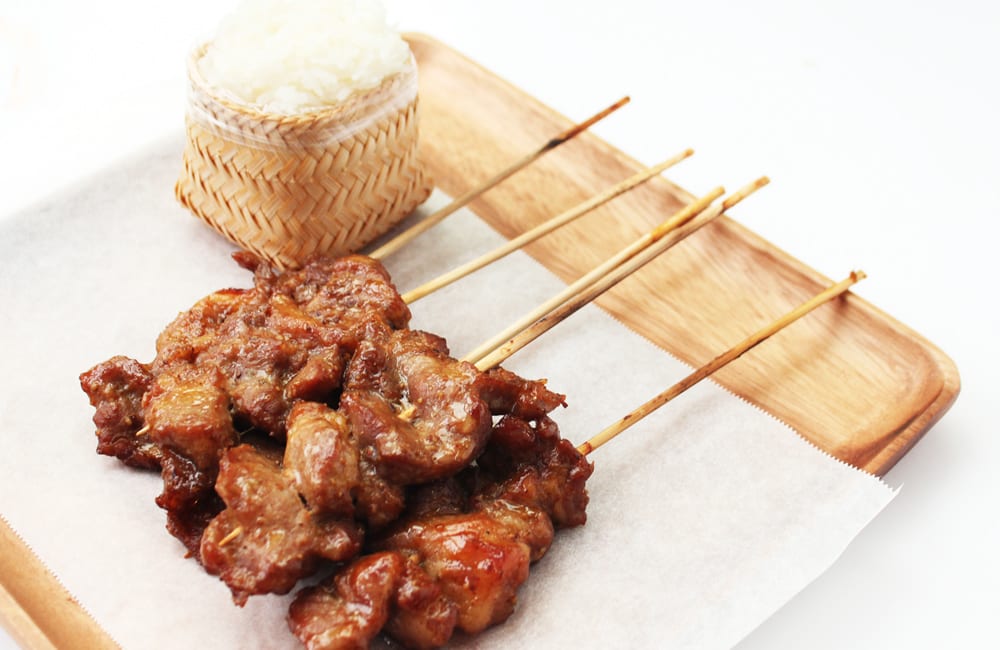 Grilled Pork with Sticky Rice
Called Moo ping in Thai, grilled skewered pork with white sticky rice. You'll easily find this menu frequently in every morning market and along sidewalks.
I wish you can go to the nearby local market early in the morning to taste all Thai breakfast dishes. Enjoy Eating….😋
3
4
8
Due to some technical problem that we have to send next categories of car for customers without prior notice, however price will remain the same we discussed ( not charge more ) or in case have to down grade your car type we will collect as per actual rate of those car type.
Cancellation of your booking must be writing by email back to us.
Once the tour has started, no refund for any unused portion or part of the tour or services to be provided will be given. If you want to make any changes to the tour, or depart the tour early, such alteration or departure will be entirely at your own expenses and liability. You will also need to contact us in writing to the tour operator your reason for leaving the tour.
เนื่องจากปัญหาทางเทคนิคบางประการ ทำให้เราต้องส่งรถประเภทถัดไปให้ลูกค้าโดยไม่ต้องแจ้งให้ทราบล่วงหน้า อย่างไรก็ตาม ราคาจะยังคงเท่าเดิมที่เราพูดคุยกัน (ไม่คิดค่าบริการเพิ่ม) หรือในกรณีที่ต้องลดขนาดประเภทรถ เราจะเก็บตามอัตราจริง ของรถประเภทนั้นๆ
การยกเลิกการจองของคุณจะต้องเขียนอีเมลกลับมาหาเรา
เมื่อทัวร์เริ่มต้นแล้ว จะไม่มีการคืนเงินสำหรับส่วนใดส่วนหนึ่งของทัวร์หรือบริการที่ไม่ได้ใช้ หากคุณต้องการเปลี่ยนแปลงทัวร์หรือออกเดินทางก่อนเวลา การเปลี่ยนแปลงหรือออกเดินทางดังกล่าวจะเป็นค่าใช้จ่ายและความรับผิดทั้งหมดของคุณ คุณจะต้องติดต่อเราเป็นลายลักษณ์อักษรถึงผู้ให้บริการทัวร์ถึงเหตุผลในการออกจากทัวร์